Today, we begin Pantry Cooking Month, something we do when there's either too much food in the house (that's the case right now) or too little money in the bank (thankfully not a problem at the moment, but we've all been there).
The rules, which are not set in stone:
Buy no groceries unless it's fresh produce (our weekly produce box, customizable on Thursdays, delivered on Wednesdays)
If something else runs out, James can buy it for himself. He is less enthused about strict rules, so we usually do it this way. That way, we mostly stick to my "game" but he doesn't feel hampered by it if there's something he really wants.
My budget software keeps track of how much I spend on groceries (which includes incidentals that come with the groceries, like aluminum foil and toothpaste). I am embarrassed to say how much I spend on groceries in December, but at the end of January, I'll post both months' numbers for comparison. Yikes.
Menu, Day 1
Breakfast:
Instant grits (don't judge)
Lunch:
Potato soup made with leftover Giftmas ham
James's excellent sourdough bread (he even made the scratch from scratch! His pet sourdough starter is named Skippy) with butter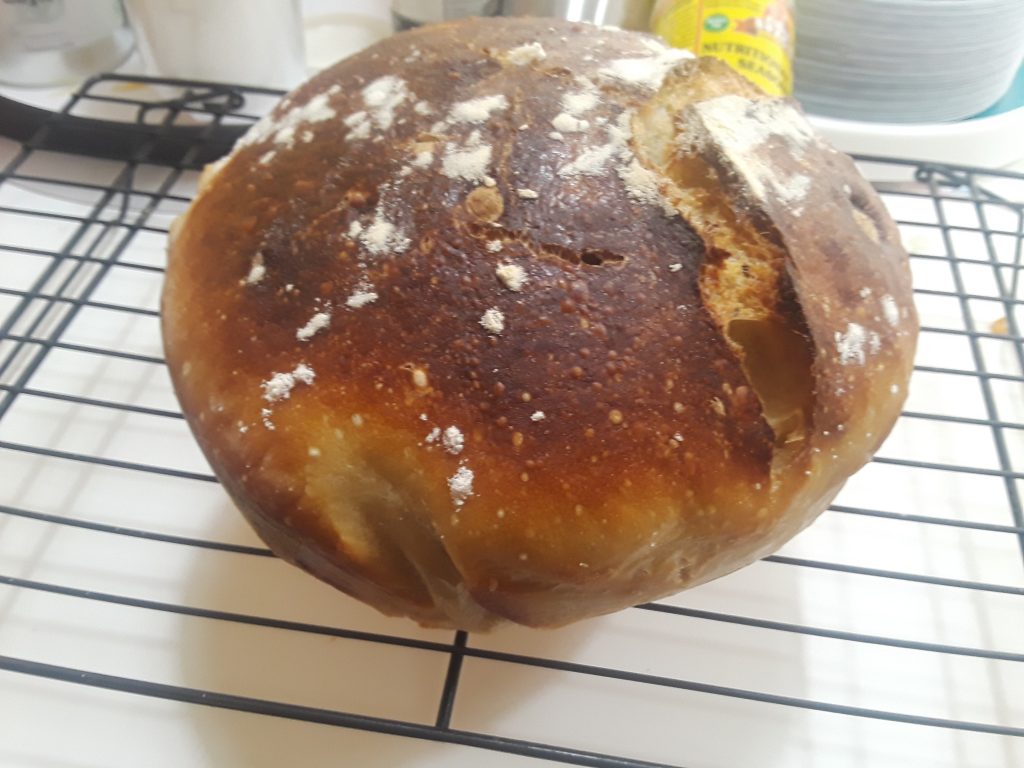 Dinner:
Golden potatoes, baked, chilled, then roasted in the air-fryer
Packets of prepared curry
What we have to work with:
[Image description: Weekly planner with columns taken up with lists of foods instead of daily plans. Lists are as follows:
Protein:
Ham
Pork
Chicken breast
Field roast loaf
Eggs
Beans*
Tuna
Kippers
Sardines
Steak
Lunchmeat
Red bean paste
Potstickers
Chicken thighs
Bratwurst
Pecans
Cod
Bacon bits
Pea protein [Note: I forgot to mention gluten]
Starch
Grits
Oats
Pasta
Ramen
Buckwheat
Corn
Peas
Flours
Dried potatoes
Rice
Cornflakes
Special K
McD soup
Bread crumbs
Puff pastry
Tortellini (frozen)
Tapioca balls
Starches (corn, potato, tapioca, etc.)
Couscous
Corn tortillas
Masa
Fresh Veg
Onions
Potatoes
Romaine
Tomatoes
Apple
Celery
Alfalfa
Zucchini
Canned Veg
Tomatoes
Pumpkin
Chipotles
Green chilis [sic]
4-bean salad
Hearts of palm
V8
Frozen Veg
Stir-fry
Greens
Kale
Okra
Spinach
Onions
Garlic
Peppers
Ginger
Blueberries
Dried Veg
Celery flakes
Carrots
Mushrooms [note: chantarelles, porcini, shiitake, mushroom powder]
Soup mix
Tomato
Tomato powder
Peppers
Prunes
Raisins
Onions
Peas
Dairy
Buttermilk
Moos
Almond milk
Sliced cheese
Parmesan
Evaporated milk
Condensed milk
Powdered milk
Powdered buttermilk
Fats
Butter
Olive oil
Canola oil
Peanut oil
Sesame oil
Coconut milk
Tahini
Other
Pork stock
Indian food packets
Spices
Sugar
Yeast
Veg stock
Condiments
Coffee/tea
Cocoa
Enchilada sauce
Chicken stock
Nori
Hershey's syrup
*Beans
Garbanzo
Red lentil
Green lentil
Kidney
Green split pea
Garbanzo flour
Black
Mung
Baked beans
Black lentils